The EQUALS pre-formal curriculum helps our pupils with the fundamentals of how to learn.
Pupils at very early levels of development access a curriculum that enables them to develop a sense of security in the school environment, which is comprehensible and meaningful to them. The focus is upon enabling them to establish positive interactive relationships with others, to proactively explore the world around them, gaining environmental control skills. All pupils are given the maximum opportunity to achieve the highest level of independence possible.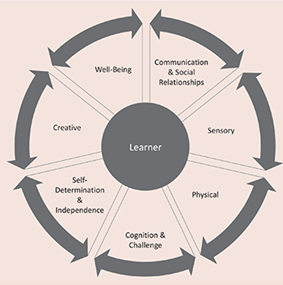 In our pre-formal curriculum the child is placed at the centre of the curriculum to focus on the things that matter most for them. Our aim is to put the children in control by giving them an environment that they can understand, and that they are allowed to keep changing, in order to encourage development.
The curriculum is based around the principles of "connecting and responding" and teachers use these schemes of work:
My Communication
My Cognition
My Care and Independence
Me and My Community
My Body